Northamptonshire athletics stalwart John Love sadly lost his three year battle with cancer in the early hours of September 2nd at the age of 81. He had dedicated most of his life to the sport as an athlete, coach, official and team manager. He leaves behind son Tim, daughter Julie and partner Carol.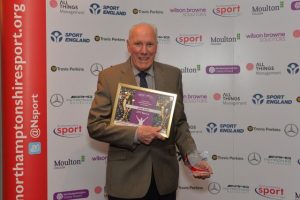 John was a very affable man who was born on June 3rd 1939 and first joined Northampton & County AC in 1954 age 15.
He competed in his first Birmingham League Cross Country race in November 1964 and went on to complete 20 races in the League during the sixties, leading home the club in 10 of them.
His pinnacle came when he won two races in Division Three in early 1966, which clinched the overall individual title and helped Northampton & County gain their first promotion to Division 2.
In 1969 John was runner-up in the Northants Cross Country Championships and after turning 30 he then took a break from the sport due to family commitments and within a couple of years the club virtually folded up, but would rise again with a new name.
In the early eighties John returned to competition as a veteran athlete for Northampton Phoenix AC and during his career competed in seven different European countries.
He became qualified as a middle distance coach and would turn out every Tuesday and Thursday to coach the Senior Mens squad, while taking part himself. He would remain active in his coaching role for 25 years.
Throughout the winter he would organise a 5 mile handicap race for the whole club on a Tuesday evening at Abington Park, Northampton for 17 years, which would attract 50 to 60 people regularly.
He would take part in 11 more Birmingham League Cross Country races for Phoenix during the eighties before hanging up his spikes in 1988 at the age of 48.
His known personal bests were, 400m..55secs, 800m..2:00, Mile..4:22 and 51:17 for 10 miles on the road.
He was then made President of the Club and would remain so for another 20 years.
He became a qualified track and field official and would spend most weekends at an Athletics meeting officiating for the club during the summer and then act as team manager for the Men in the winter for the cross country.
For many years he drove the mini bus for the Cross country team to numerous events.
He attended countless committee meetings for both Club and County and would later be made President of the Northamptonshire Athletic Association.
In more recent years as an Honorary member of Rugby & Northampton AC he continued to officiate, both in track and field events, which included the Special Needs Champs in Leicester.
John also turned to competing once again, but this time in throwing events and the Walk and at the age of 80 was still winning medals in his age category.
In 2019 he won the Lifetime Contribution to Sport at the Northamptonshire Sports Awards. An award that was long overdue.
John's funeral will take place on Monday 21st September at 1100 at Milton Malsor Crematorium. Details of the live stream will be published when they are available