Rugby Runners intermediate/advanced group contains athletes who are looking to push their limits and strive to achieve the best from themselves, and is open to men and women.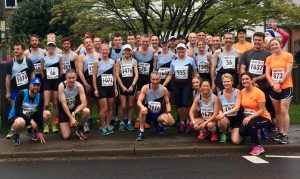 Our advanced group is aimed at committed runners – both men and women – who wish to train and compete at a high standard.
Our intermediate group (also for men and women) is aimed at runners with some experience but is less competitive than the advanced group. As a guide, you should be able to run at least 10K at between 7min and 8m 30 pace.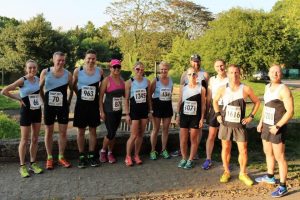 Both groups follow similar training plans, but the intermediate group at a lower intensity.
WHERE AND WHEN WE MEET
Rugby Runners intermediate and advanced groups meet at Rugby Athletics Track on Tuesdays and Thursdays at 6.30pm. Lead coaches are Laurence Scott and John Gercs. For further information contact The Rugby Runners TEam
STRUCTURED TRAINING SESSIONS
Rugby Runners endeavours to offer a running environment that is all-inclusive. Using this model there is a great flow of information between the training groups. On the organised training nights there are different groups to cater for a range of pace and goal objectives.
In general the training session will involve three periods: warm-up, quality training and cool-down with runners following training schedules issued by the coaches.
The main formats for the quality training are intervals, hill repetitions, tempo runs and progression runs. As far as is possible these sessions are planned to enable runners of different paces to remain close. For intervals, which are invariably time based, these are either performed on an out-and-back section or a small circuit. For an out-and-back the rest period is taken at the point the runner reached after the interval so that on the return leg, all runners end up back at the starting point. For circuits the rest period between intervals is used to reform the group. Hill repetitions are conducted in a similar fashion.
For tempo runs and progression runs there is normally a choice of loops so that all members of the group run to a common point in a similar time to run the cool-down period together.
Generally for all of these sessions there are pockets of runners of similar abilities within the main group, which provides extra motivation.
INFORMAL TRAINING SESSIONS
Rugby Runners prides itself on the club atmosphere and as a result many members train together outside of the structured sessions. There are normally members running a variety of distances and terrains that may be aimed more specifically at certain race goals such as trail races, marathon long runs, ultra distance training runs. Typically these are organised on an ad-hoc (although regular) basis and are a real benefit of club membership.
RUNNING COMPETITIVELY
Many of the members compete regularly in a wide range of events from road racing (relays, 5K, 10K half-marathon and marathon), to cross  country, obstacle races, park runs, fell running, ultra marathons. As a member of the group there are various race leagues which you gain automatic entry for.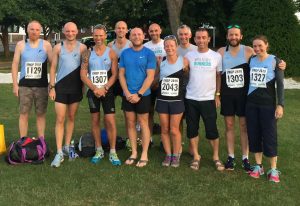 At present the club races in the Birmingham League Division 1 Cross Country over the winter and in the East Midlands Grand Prix Series in the summer which feature road races of between 5 miles and 10K. The training sessions encompass proven training formulae that are applicable and beneficial to runners competing in this wide range of events.