Established in 2009, the Ladies Running Group is based at Rugby and now has more than 200 regular members, catering for women of all ages and abilities, shapes and sizes, from complete novices to experienced runners.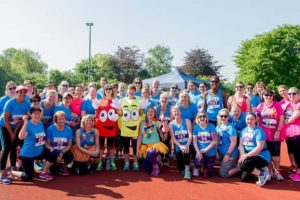 Whether you are looking to compete in your first 5K or dream of running a marathon, the group will provide you with coach led sessions and specific training plans to meet your on-going individual needs. You'll soon find yourself running with like-minded women keen to welcome you into the group. Your personal goal may be to get fit, lose weight, relieve work pressure, escape from the kids for an hour or to meet new people – you will meet all these goals in this friendly welcoming group.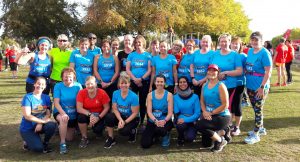 The Ladies Running Group's informal sub-groups assist members meet various targets and abilities, and include a 5K Improvers Group, 10K Group, Half Marathon Group and a Marathon group.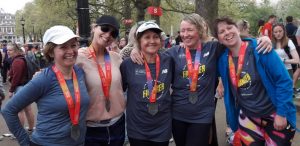 We also offer an annual 16 week 0 -5K beginners course as well as a Back to Running course aimed at ladies who are returning to running after some time out.
Where and when we meet
The group meet on Saturdays at 9am at Rugby Athletics Track and members also meet informally during the week (normally Tuesday and Thursday at 6.30pm), following schedules produced by the coaches. Sessions are a mixture of track-based training, core stability and strengthening work and calculated distance runs depending on your target distance, with many of the group working towards carefully chosen group events. Fun informal trail runs are also offered for people who enjoy the freedom of running in the beautiful Warwickshire countryside.
All sessions are with qualified and experienced female coaches. Fun, friendship and a shared commitment to supporting each other to achieve personal goals is an integral part of the group.
"When I joined running 5K seemed like a marathon, just 2 years later the group helped me run one"
Contact Kay for more information by email – ladiesrunninggroup@gmail.com