Having finished in bronze position in the Midland Premiership UK youth development league, Rugby and Northampton AC took their place in the regional final at Yate knowing that the opposition from the Midlands and Wales would be extremely challenging but R and N athletes rose to the occasion with a succession of superb performances and personal bests.
For the U13 boys, Arthur Tilt was outstanding, claiming three impressive victories in the 1500m, high jump and long jump ably assisted by Charlie Gibbs, Harry Pritchett and William Gand in each of the respective events. There were also impressive sprinting from Luke Doherty and Gabriel Badero whilst Harrison Barnes and Gabe Mayall threw extremely in the javelin event.
The U13 girls produced a succession of personal bests with Ona Ndefo producing an outstanding victory in the hurdles as did Isabel Mur in the B hurdles event. Krystal Ndukuba and Aveline Desdoits-Pittman were excellent in the throwing events and the distance runners of Georgia Gercs, Lexie Thomlinson, Jemima Cooper and Sophie Hancock also all ran superbly.
Florence Matthews was outstanding the U15 girls competition, winning the long jump and then missing out by a fraction in the 200m. Olivia Williams and Amelia Cebak were excellent in the 800m whilst Madeleine Jacks and Elspeth Unitt both claimed bronze medals in their respective 1500m races. Charlotte Bowers was an outstanding victor in the hammer and she was ably assisted in the throws by Hazel Middleton.
The U15 boys also had numerous notable successes. Jeremy Gundle and Austin both claimed 3rd in their 300m events – as did Oscar Delgado Major and Joseph Jones in the 800m. Henry Woodward also finished in 3rd position in the 1500m A race. whilst Louis Buttrick claimed the top spot in the B race. Oliver Scott bounced back from a broken wrist to claim second place in the long jump whilst Jonny Mclaughlan also claimed silver in the shot. The performance of the day, however, came in the pole vault where Henry Woodward claimed top spot with Ryan Buckley just behind him.
The relays at the end of the match were as tense and close as always with R and N claiming two silver positions for the outstanding U13 boys and U15 girls teams. The event was incredibly tight with the teams all very evenly matched with R and N eventually finishing in an excellent 5th position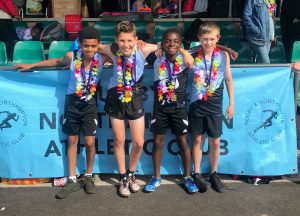 Well done to all those that took part in this league over the season – over 100 different youngsters from the club took part across the four matches!!