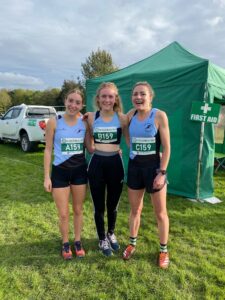 Rugby & Northampton AC kicked off the cross country season in fine style with some outstanding performances at the senior Midlands cross country relays.
For the men, Haydn Arnall led the way on the first leg, coming home in the leading position in a stellar time of 19m 01. Finlay Ward continued the fine running on the second leg, passing over to track specialist Adam Wright. Adam raced to an impressive 19m 23 and handed over in second place to the final runner, Ben Musgrove. Ben ran a storming leg of 19m 11 to consolidate the silver medal position, finishing just over a minute behind the gold medal team, Bristol and West. To show the strength which R & N currently have, the B team finished in 4th position
The ladies team also produced a truly outstanding performance to claim silver medal – the best ever result by some way for an R & N ladies team. Lucy Stevens and Jemima Lambert ran solidly on the first two legs passing to Alice Belcher. Alice ripped through the field and was gaining on the leading team with every stride. In the end the team finished 10 seconds behind the gold medallist, Nuneaton, with Alice recording the fastest time of the day for any runner.