Rugby & Northampton AC athlete Ed Faulds took the European U20 Championships by storm when he secured double gold in both the 400m and 4x400m relay. This fantastic double gold medal winning performance also helped the GB U20 team finish top of the medal table at the championships with a total of six gold medals.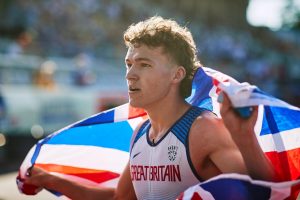 Ed went into the Championships ranked 5th in Europe so on paper had an outside shot at a medal. He safely negotiated his first race by finishing 3rd in his heat to qualify for the next round. 5 hours later, he lined up for the semi-final with a difficult lane draw running blind in lane 8. This didn't faze him, and Ed cruised to victory in a huge new personal best of 45.95. This took over half a second of his best coming into the championships which stood at 46.68!
This run meant Ed qualified fastest for the final, meaning he suddenly became the man to beat. With the target on his back, the rest of the field took the final out hard from the gun and Ed found himself towards the back at the 200m mark. He didn't panic and stuck to his race plan that served him so well in the
semi-finals. Ed picked the field off one by one before surging to the front with 50m to go. He kept digging deep and ultimately stormed to an emphatic victory in another personal best of 45.72.
An absolutely delighted Ed afterwards said, "Around 150m I was thinking 'this is my medal; they are not taking this from me'. I was willing to give my absolute everything and I'm glad I did. I might be in pain now, but it was fully worth it."
But he wasn't done yet. Two days later he returned to the track in the final of the 4x400m relay. Ed formed part of a very strong British quartet, who going into the race were favourites to take the gold. The first three runners set the race up perfectly, and Ed was handed the baton in first place on the anchor leg. He flew through the first 200m, putting more daylight between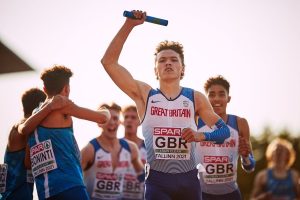 himself and 2nd place. One final effort saw Ed anchor the team to victory, producing a 44.97 relay split in the process!
Double European champion, Faulds, spoke afterwards, "I wouldn't have been able to have done it without these boys. These boys are just incredible and I'm over the moon. Nobody should underestimate us!"
This achievement has been the result of many years of hard work and perseverance. Ed joined Rugby & Northampton AC at the age of 9 and through his early years in the sport was always an important part of teams at various league matches. This was not so much for his individual performances, but for his willingness to fill in for any event to try and gain points for the club. From Pole Vault to Discus, Ed always did everything he could to try and help the team as much as possible!
Ed's first breakthrough didn't come until 2019 when he managed to make the English Schools Championship for the 400m Hurdles at the age of 16. Despite winning his heat, Ed was unfortunately disqualified and was unable to compete in the final. He bounced back from that disappointment in style, winning the England U20 Indoor 400m title in a new PB of 48.74 in February 2020.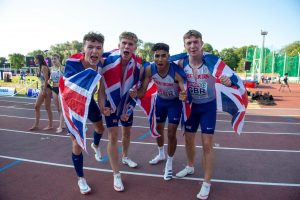 Since that victory, COVID-19 has really limited Ed's ability to train consistently. Last year saw a really small competition season and restricted access to the athletics track for training. This continued into 2021, with Ed forced to train at his local park and his own makeshift home gym as the track continued to be shut through to the end of March. Even after lockdown was eased, the Rugby track went straight into a 12-week refurbishment. This meant Ed had to travel up to 40 minutes to train in Northampton, often after a full day of work at his apprenticeship. All of this is testament to Ed's character, showing incredible resilience to make the most of a difficult 18-month period and come out of it having still achieved his goals.
Ed is coached by Rugby based James Wright who spotted his potential and has been on this exciting journey with him.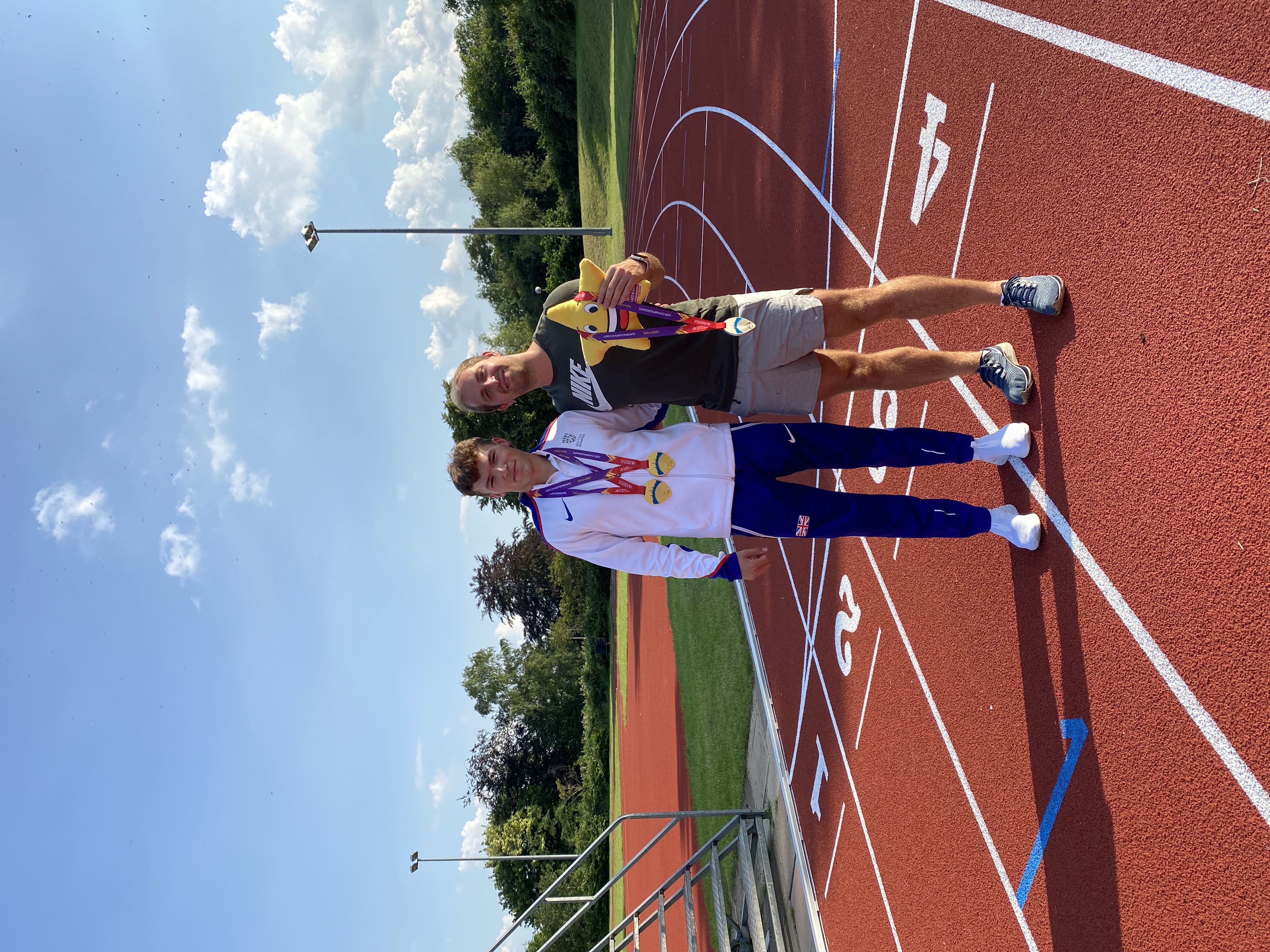 The future looks bright for Ed, even at 18 he is now the 3rd fastest 400m runner in the UK of any age. A home Commonwealth Games is the target for Ed next year and he has already gone back into training to prepare for next season. As a club, we are all incredibly proud of what Ed has achieved this season and can't wait to see how the rest of his journey unfolds!